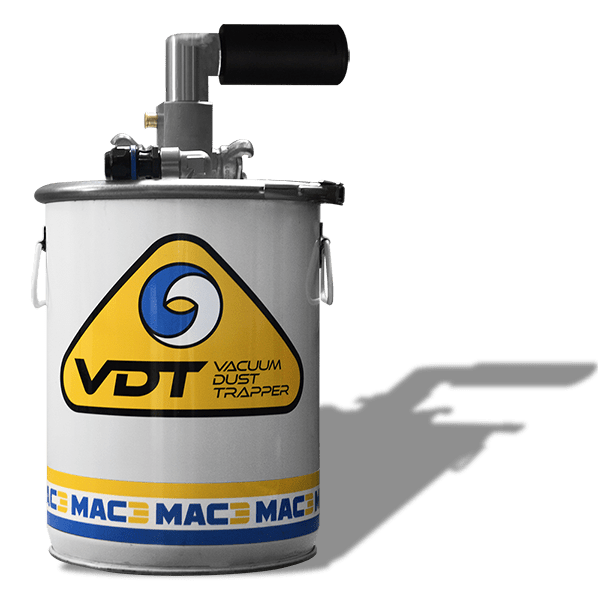 VACUUM CLEANER FOR PNEUMATIC TOOLS
The Vacuum Dust Trapper (VDT) suitable to all pneumatic pickhammers and breakers on the market and operates solely oncompressed air. The VDT offers areliable solution to reduce the risk of occupational diseases without reducing the performance of pneumatic tools.
VDT - VACUUM DUST TRAPPER
HIGHLIGHTS
1 single external energy source: the pneumatic - The system works thanks to its connection with the compressor and is ideally positioned between the tool and the compressor
The VDT system is universal - it can be used with tools of all brands
No water input - Dust is absorbed by a washable HEPA filter
The system can be positioned up to 5 meters from the tool - More freedom for the operators
Lightweight and mobile kit - Easy to handle in the field
Low air consumption - only one 2500 l compressor is needed to operate a 25kg MAC3 hammer and the VDT
Start/stop button on the VDT - You decide when you start and stop, independent of the hammer
To reduce noise, the VDT is equipped with a silencer
FEATURES 
The VDT is a Vacuum Dust Trapper suitablesuitable toall pneumatic and breakers on the market.
Works with compressed air
Universal system
Washable HEPA filter
Nomadic and lightweight system
Low energy consumption
Silencer included
SPECIFICATIONS
Machine washable filter in accordance with OSHA 1926.1153
Pressure: 6 bar - 87 psi
Air consumption : 1 000 l/min - 35 cfm
20 liter (5 gal) tank
3/4" connection