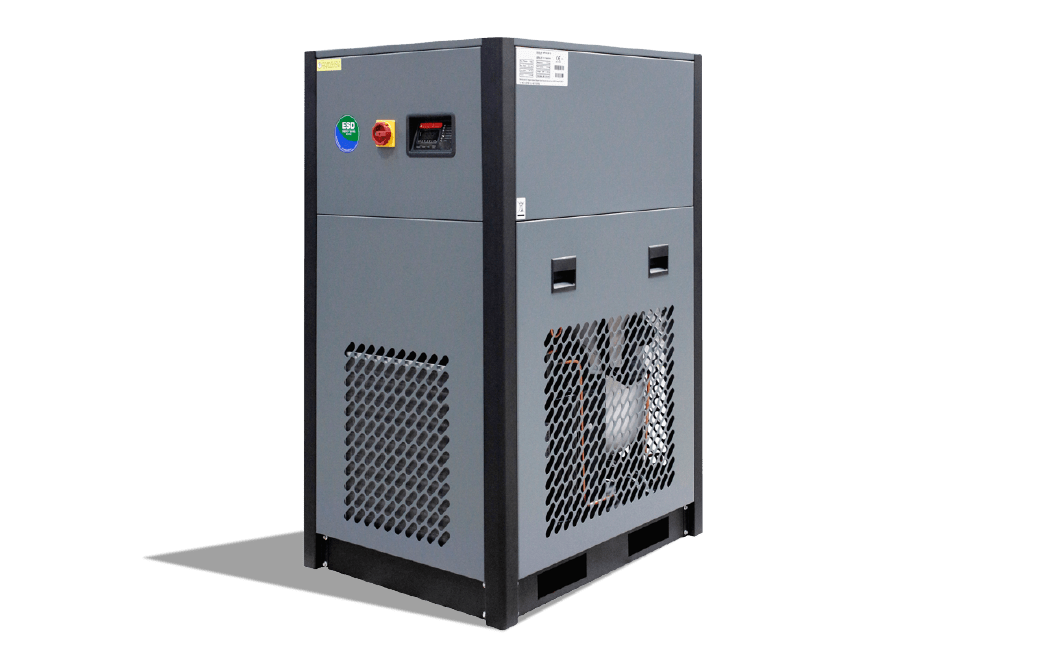 REFRIGERATION DRYERS
MAC3 markets the DK range of refrigeration dryers with integrated filters. These high performance dryers have many advantages, related to their conception and design.
DK REFRIGERATION DRYERS
FEATURES
Compact design
Thanks to a chassis designed to leave no free space, the DK series dryers use the smallest possible floor space.
Energy saving device
Electronic controller with energy saving features and fault management.
Aluminum exchanger
Very low pressure drop (100 mbar) and excellent efficiency (real dew point of 3°C).
Accessibility
Easy access to each component.
Scroll compressors (from DK 140)
Use of economical and durable scroll compressors.
Integrated in-line filters (up to DK 170)
One filter with X-element (coalescing filter for water removal) for particles down to 1 micron and one filter with Y-element (coalescing filter for oil removal) for oil removal down to 0.01 ppm.
3°C pressure dew point
Very low pressure drop
Designed for tropical conditions
Dryer easily runs at 60°C max. inlet temp.and 50°C ambient temperature thanks to R134A refrigerant (all through the range) and oversized condenser
DIGIPRO controller (DK10-130) or ESD controller (DK140-260)
PERFORMANCE
Refrigerant R-134a
Maximum working pressure : 16 bar
Maximum ambient temperature: 50°C
Maximum inlet temperature: 60°C
| | VOLTAGE | AIR FLOW | CONNECTION | INTEGRATED FILTERS | DIMENSIONS |
| --- | --- | --- | --- | --- | --- |
| MODEL | | (m3/min) | | | mm (L x W x H) |
| DK 10 | 230/1/50 | 0,35 | 1/2" | GO 55 MX + MY | 452 x 444 x 567 |
| DK 20 | 230/1/50 | 0,58 | 1/2" | GO 55 MX + MY | 452 x 444 x 567 |
| DK 30 | 230/1/50 | 0,83 | 1/2" | GO 55 MX + MY | 452 x 444 x 567 |
| DK 40 | 230/1/50 | 1,45 | 3/4" | GO 155 MX + MY | 473 x 453 x 832 |
| DK 50 | 230/1/50 | 2,17 | 3/4" | GO 155 MX + MY | 473 x 453 x 832 |
| DK 60 | 230/1/50 | 2,83 | 3/4" | GO 155 MX + MY | 473 x 453 x 832 |
| DK 70 | 230/1/50 | 3,30 | 1 1/2" | GO 405 MX + MY | 553 x 503 x 874 |
| DK 80 | 230/1/50 | 4,72 | 1 1/2" | GO 405 MX + MY | 553 x 503 x 874 |
| DK 90 | 230/1/50 | 5,90 | 1 1/2" | GO 405 MX + MY | 553 x 503 x 874 |
| DK 100 | 230/1/50 | 7,78 | 2" | GO 805 MX + MY | 678 x 648 x 1157 |
| DK 110 | 230/1/50 | 9,80 | 2" | GO 1205 MX + MY | 678 x 648 x 1157 |
| DK 120 | 230/1/50 | 13,7 | 2" | GO 1205 MX + MY | 948 x 728 x 1370 |
| DK 130 | 230/1/50 | 18,3 | 2" | GO 1205 MX + MY | 948 x 728 x 1370 |
| DK 140 | 400/3/50 | 21,8 | 3" | GO 1805 MX + MY | 948 x 728 x 1370 |
| DK 150 | 400/3/50 | 27,1 | 3" | GO 1805 MX + MY | 948 x 728 x 1370 |
| DK 160 | 400/3/50 | 36,7 | 3" | GO 2775 MX + MY | 1163 x 778 x 1725 |
| DK 170 | 400/3/50 | 43,7 | 3" | GO 2775 MX + MY | 1163 x 778 x 1725 |
| DK 180 | 400/3/50 | 52,4 | DN100 | GO 5850 MX + MY | 1397 x 847 x 1770 |
| DK 190 | 400/3/50 | 61,6 | DN100 | GO 5850 MX + MY | 1397 x 847 x 1770 |
| DK 200 | 400/3/50 | 80,0 | DN100 | GO 5850 MX + MY | 1467 x 1077 x 1930 |
| DK 210 | 400/3/50 | 92,0 | DN100 | GO 5850 MX + MY | 1467 x 1077 x 1930 |
| DK 220 | 400/3/50 | 109,7 | DN150 | - | 2188 x 1062 x 1925 |
| DK 230 | 400/3/50 | 123,9 | DN150 | - | 2188 x 1062 x 1925 |
| DK 240 | 400/3/50 | 141,6 | DN150 | - | 2247 x 1200 x 2044 |
| DK 250 | 400/3/50 | 165,2 | DN200 | - | 2247 x 1200 x 2044 |
| DK 260 | 400/3/50 | 196,7 | DN200 | - | 2550 x 1550 x 2100 |