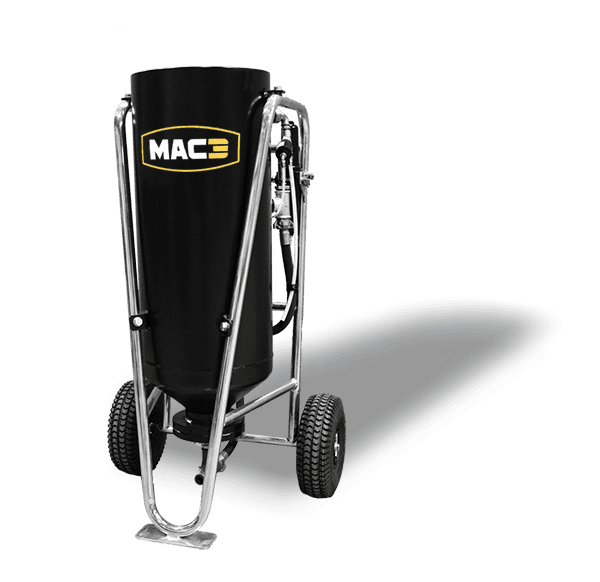 SANDING MACHINE

S70
MAC3's S70 sandblaster is the ideal tool for stripping any vertical or horizontal surface. Versatile and easy to handle, it is ideally suited to masonry renovation, facade restoration, paint removal, rust removal and metal surface preparation.
PROFESSIONAL SANDBLASTER
VERSATILITY OF USE
The MAC3 sandblaster is a blasting solution that uses compressed air to project abrasive. Its operation consists in putting a tank, previously filled with abrasive, under pressure.

The MAC3 S70 sandblaster ensures the stripping of all types of horizontal or vertical surfaces for :
masonry renovation ;

Building façade renovation

;
Paint removal;
Rust removal and preparation of metal surfaces.
Recognized for its efficiency and ease of use, the MAC3 sandblaster combines comfort, performance and safety.
A "CARING FOR PEOPLE" SANDBLASTER
SAFETY IN USE
Easy access to the hatch
Remote control system
Automatic closing
Protection of the closing cone
Service pressure tank set at 10 bar
COMFORT
Stretcher-type transport support
Ergonomic dimensions
Activated carbon filter for helmet supply
Integrated air helmet socket
ECONOMY
Sandblasting setting
High resistance integrated air purifier
Tank with optimized capacity of 70 L
PRESSURE BLASTING TECHNOLOGY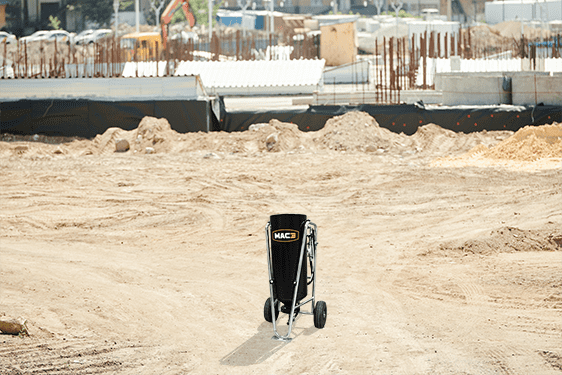 SANDBLASTING MACHINE : WHY CHOOSE THE PRESSURE TECHNOLOGY ?
Pressure blasters are the models to be preferred for professional use.
The operating principle of this technology guarantees constant performance: the aggregates are contained in a sealed tank under pressure. Pressing the trigger of the gun releases this pressure and thus the aggregates at the same time. The pressure and the flow rate at the gun outlet are regulated and constant, which allows powerful and intensive stripping.
The MAC3 pressure blaster offers several settings, allowing of course to sand, but also to airbrush (low pressure operation) if the nozzle mounted on the gun is adapted.
The pressure blaster requires a significant air flow (2500 l/min minimum) to operate properly, which implies the use of a mobile compressor such as the MAC3 MSP range.
TECHNICAL DATA
Dimensions
(L*W*H)
Weight
Working pressure
Piping
SB70-10
600*680*1165 mm
23,6*26,8*45,9 in.
70 kg
154.3 lbs.
7 bar
100 psi
10 m
393.7 in.
SB70-20
600*680*1165 mm
23,6*26,8*45,9 in.
70 kg
154.3 lbs.
7 bar
100 psi
20 m
787.4 in.
Directions for use:
Nozzle diameter 8 = compressor 3500 to 4000 l/min
Nozzle diameter 6,5 = compressor 3000 l/min
Nozzle diameter 5 = compressor 2500 l/min
EQUIPMENT
Sandblasting kit including :
S70 sandblaster with remote control

Complete piping (size to choose)

Carbide nozzle (size to be chosen)

Shot blasting helmet with window and supply hose

Activated carbon filters for the helmet

Water filter for the sandblaster