---
MAC3 is pleased to announce the introduction of our industrial MSS series, based on oil-free scroll compression technology. This new series allows to meet many applications that require a totally oil-free air quality. Compressors that do not use any oil during the compression process help to avoid any risk of contamination in manufacturing processes.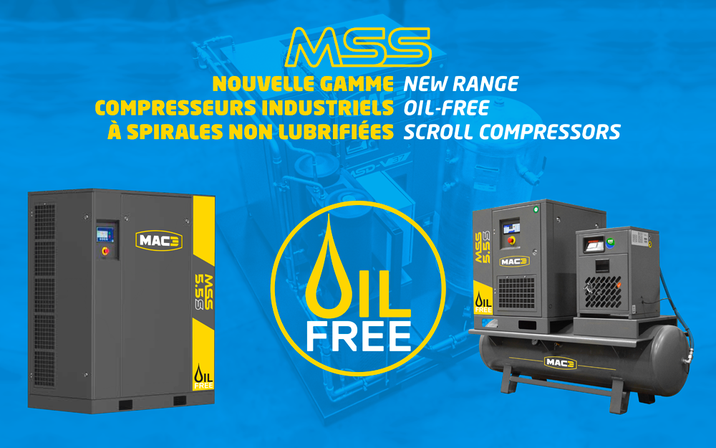 MANY applications
Many processes involve contact between compressed air and the product.
When air purity is critical, totally oil-free air is needed, such as:
Pharmaceuticals;
Food and beverage;
Electronic components;
Dental laboratories;
High technologies and R&D;
Water treatment;
Etc..
Cutting-edge technology and high-end components
The air end made in Japan by HITACHI, is composed of 2 scrolls, one fixed and one mobile.
The mobile one, by its rotation, compresses the air coming from the inlet.
The compact air end incorporates an optimal cooling system and all models come with a high efficiency compressed air aftercooler. The compressors have been designed to achieve very low vibration and sound levels.
As standard, each compressor is equipped with a smart electronic controller, allowing in particular the management of preventive maintenance and communication via the MODBUS protocol.
And finally, the French touch with our LEROY SOMER IE3 efficiency motors and our SCHNEIDER ELECTRICS starters and electrical protections.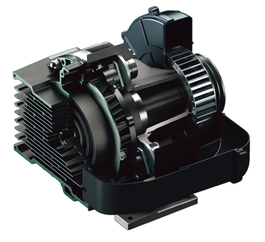 maximum flexibility
From 1.5 to 30kW, the MSS series can meet a wide range of oil-free air needs.
The MSS series offers models integrating up to 4 compressors in the same frame and breaks down as follows:
S = 1 scroll compressor
D = 2 scroll compressors
T = 3 scroll compressors
Q = 4 scroll compressors
Multi-compressor models D, T and Q, are controlled by an advanced PLC, making it possible to manage the start / stop, the selection and the balancing of the compressors, with the main goal of the perfect match between compressed air supply and demand.
Finally, the S models with 1 single compressor can be delivered tank-mounted with refrigeration dryer and filtration.
---
For more information, please click here.