---
180 kg on the scale and the size of a European pallet : it's under these measurements that MAC3 presents its latest product, the MSP1300 compressor. But don't get me wrong, this new compressor is packed with power, able to efficiently power MAC3 breakers up to 40 kg!
A high-performance compressor thanks to its components and it's design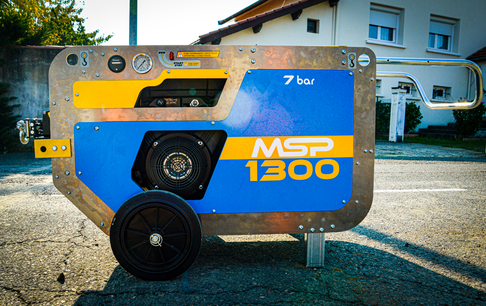 From the start of the project, the R&D teams paid special attention to the design and ergonomics of this compressor. The goal was to be able to offer users the power of pneumatic energy and combine it with ease of use and handling. The choice of components has also been taken care of, to guarantee simple operation and optimal performance thanks in particular ro its 23 Hp Briggs & Stratton engine. 
With the MSP1300, MAC3 is expanding its range of mobile compressors with a machine offering two configurations:
1300 liters version at 7 bar, ideal for operating all breakers form the MAC3 range or for supplying an airbrushing machine.
1000 liters version at 15 bar, the perfect configuration for installing optical fiber.
Versatility is one of the main characteristics of the new MSP1300. It is available in a version on Skid to be positioned in your van, or in a version on wheels to be handled on construction sites. Its compactness facilitates and also optimizes its transport. 
Designed for ease of use and maintenance
MAC3, as part of its "Caring for People" philosophy, has pushed ergonomics to the maximum to guarantee a compressor that combines practicality and ease of use:
Direct access to filling the tank = ease and time saving for the user
Electric start by key switch = ease of use 
Air outlet and opening valve located at the rear of the machine and under the cowling = protection of this component
Opening the cover = quick and easy access to the operating devices
Reversible and adjustable handling handle = adaptation to the user's profile and ease of transport
Connection of optional aftercooler using a single connector = ease of use.
 The combination of this latest MAC3 compressor with the performance of MAC3 pneumatic tools makes this package the most efficient and economical overall solution on the market!
Manufactured by us in our workshops in France, this compressor is now available for sale. Contact your correspondent for any information request!