---
In the field of construction and public works, dust particulates are one of the main causes of work-related illness, particularly affecting the respiratory or cardiovascular system.
Since its creation, MAC3 is differentiated by a constant search for a balance between economy of use and comfort of the user. The health of the operator and its protection are thus systematically taken into account during the development of MAC3 products.
↓ DEMONSTRATION VIDEO ↓
A vacuum dust trapper for hammers & breakers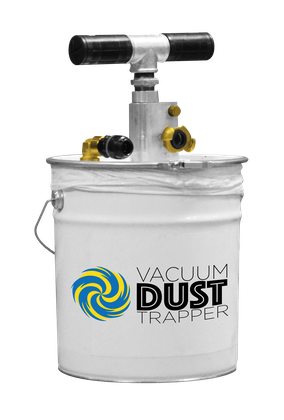 In this approach, which is dear to its « caring for people » values, MAC3 presents today its new product: the Vacuum Dust Trapper (VDT), a dust vacuum cleaner operating only with compressed air and adaptable to all pneumatic hammers and breakers in the market.
The VDT has been designed by MAC3 teams to offer maximum ergonomics, whether in use, performance or improved working conditions:
The VDT works exclusively with compressed air: no need for additional sources, whether it is electricity or water;
The VDT has a low air consumption: the combined use of MAC3 breaker & vacuum cleaner VDT is possible with only a compressor of 2500 l/min; 2.5 m3/min; 90 cfm.

The kit is lightweight, easily positionable and adjustable

and can be located up to 5 meters from the tool it equips;
The VDT is equipped with a silencer

to significantly reduce noise;

Easily removable and washable

, the system is equipped with a washable HEPA filter in accordance with OSHA standard 1926.1153.
The VDT is available !
The VDT, proposed as a ready-to-use kit, offers a reliable solution to permanently reduce the risks related to occupational diseases without reducing the performance of use of pneumatic tools.
The kits are already available.
 So, if you are also concerned by optimized working conditions, do not hesitate to contact us.