---
The PAC 3000 air pick is the latest MAC3 compressed air solution. Completing the range of pneumatic and projection tools, the tool meets a growing need in the field of excavation. The air pick is an excellent tool to excavate porous and semi-porous materials without damaging non-porous utility networks. 
A short overview of the PAC 3000.
The MAC3 air pick
The PAC 3000 has been developed to provide an effective, ergonomic and secure response to experts in construction, excavation and landscaping work,... The tool is designed to adapt to all situations on all terrains.
The MAC3 air pick is fully adjustable, including an ergonomic horizontal and vertical adjustable control handle, but also provides a support handle to offer a greater level of comfort and accurate control that helps the user in his work. The PAC 3000 can of course be extended, with one or more 500mm tube extensions (a 500mm extender equips the PAC 3000 as standard) and can also be oriented with two end pieces, at 45° and another optional, at 90°. Finally, for optimized user safety, the nozzles used are sealed and the materials used have been tested for dielectric strength (80,000 volts in laboratory test and 35,000 volts in operation).
Offered in its carrying case, the PAC 3000 is ready for use.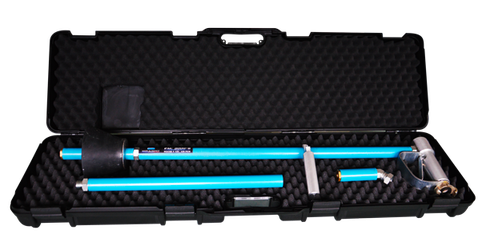 Fields of use of the PAC 3000
The MAC3 air pick can be used in many areas, including those that require clearing surfaces where mechanical tools can not access without fear of damaging the elements around them (pipes, foundations, roots ...), but also to clean surfaces ...
The many orientation features of the PAC 3000 will allow access in complex terrain configurations while maintaining ergonomic work for its users.