---
At the time of its conception, MAC3 was a new company, starting completely from scratch... Driven by the will, desire and competence of its leaders, as well as the skill-sets its fellow employees contributed, who all came to enrich the workforce of the company through the years.
It is important to remember that MAC3 was born from the will of 5 former employees, dismissed from the untimely closure of Sullair Europe, that led them to continue the industrialization and manufacturing processes in France, where skills in the pneumatic air industry would have been doomed to disappear altogether without their intervention and drive for success...
When it was created, MAC3 crossed the path of Réseau Entreprendre, an association of Loire entrepreneurs, working to support entrepreneurs on their promising projects.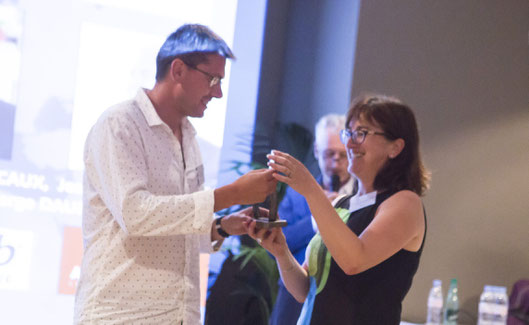 MAC3, SELECTED BY du réseau entreprendre
Becoming a Laureate of Réseau Entreprendre is done on selection. Each year, 15 companies are chosen by the association to be accompanied. MAC3 was Laureate of Réseau Entreprendre in 2012, shortly after the company was founded. To be selected, the MAC3 development project went into the hands of several experts and was challenged to ensure its durability.
As part of the development of its activity, MAC3 was once again selected in 2016 by Réseau Entreprendre, but this time as Ambition Winner ! This award is reserved for companies whose development characteristics in turnover and workforce are achieved and accredited. This new recognition has allowed the company to be accompanied by 2 additional years of new deveopment for MAC3, such as the growth of its international market.
The réseau entreprendre loire
Founded in 1999, the Réseau Entreprendre Loire has so far supported 221 laureates, representing no less than 1679 jobs created or safeguarded and 118 business leaders volunteers, committed to the growth of the economic territory of the Loire. 
The Réseau Entreprendre Loire, in its accompaniment, wishes to place the human at the center of its concerns. The members of the association, experienced business leaders, help the entrepreneurs in their daily life, to develop their ideas, solve problems and especially to break the loneliness of the entrepreneur. Another principle dear to Réseau Entreprendre is the spirit of reciprocity, that is to say, to pass on its entrepreneurial experience to future members and put the acquired knowledge at the service of others.
Mac3 member of the network
Now that MAC3 has benefited from the experience of seasoned entrepreneurs, it is time to return the favour and, in turn, bring its experience to young entrepreneurs in the region.
This commitment is, moreover, totally in line with the MAC3 values, which aspire to participate in the economic development of the region and its players.