---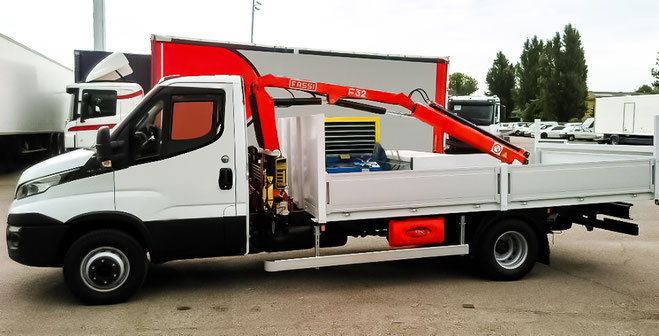 Moletta Obrado, are a specialist in industrial bodywork design and fabrication, based in Montauban (France). They recently integrated the MAC3 compressor MSP3200 with a flow rate of 3200 liters / min (115cfm) at 7 bar (100psi), on a flatbed truck.
Thanks to:
Its compactness
Its easy access to the control panel
Its integrated exhaust positioning
The compressor was easily fastened to the truck deck due to its incorporated skid-frame design enabling ease of secure mounting and now completes the drilling tools capability to have a modular compressor / drill package for the needs of his customer.
The ergonomics of our compressors combined with our responsiveness to meet the needs of users, made the difference and satisfied Moletta Obrado and his customer.
Their body design incorporates an integrated storage compartment that can hold a MAC3 model BB25 pneumatic hammer, its supply air hose and accessories.
Ergonomic design
Thanks to an ergonomic and compact design, MAC3 portable compressors meet all types of customer needs and can be adapted to many applications, while ensuring a high level of performance thanks to its Kubota engine, its oil / air separation function, undercarriage mounting options and ease of access and serviceability, ensuring a high quality compressed air solution.
Reactivity & flexibility of MAC3
Designed and manufactured in France, MAC3 portable compressors have this ability to adapt itself to many applications, guaranteeing performance and reliability.
The MAC3 team is at your disposal and will be pleased to assist and recommend the best compressed air solution for your needs.