---
MAC3 is a brand with real expertise in industrial compressed air. Over the years, the company has evolved its range to meet the needs of the market. Today, energy optimization is at the heart of MAC3's concerns, as evidenced by the "caring for the planet" approach, which has been dear to the company since it was founded. We propose a focus on an ingenious system, allowing to recover the available energy in the form of heat in an industrial compressor, via a heat exchanger.
Heat exchanger : what use?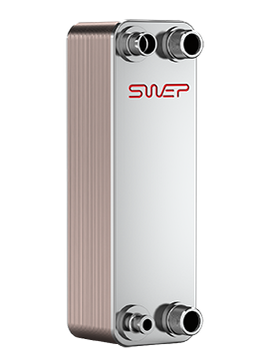 Thermal energy recovery is an option available on the MAC3 industrial compressor range from 22kW, fixed speed and variable speed. The heat exchange device is integrated within the machine and allows a quick and easy connection to the water network of the company. By allowing the transfer of calories between fluids, the plate heat exchanger will heat the water thanks to the heat of the compressor oil. 
On each application, the customer can set his need for available energy using pumps and regulators on his water circuit. This system makes it possible to heat water up to 70°C, which can be used in multiple industrial process applications. 
The stainless steel plate heat exchangers installed on MAC3 industrial compressors are manufactured by SWEP, a Swedish brand, recognized for the quality of its products. It should be noted that the exchanger integrated on the oil circuit of the MAC3 compressor does not affect the performance of the latter.
What energy consequences?
In industry, industrial compressed air can account for up to 20% of overall electrical energy consumption. The majority of the electrical energy consumed by industrial compressors is converted into heat that must be removed ... The heat exchanger makes it possible to give a usefulness to this heat which, when reused, reduces overall electricity consumption and therefore the carbon footprint of the company. 
For many industrial processes requiring hot water all year (not only in winter), the return on investment is ultra-fast and energy savings are cumulative year after year...

Heat exchanger schematization
Compressor energy recovery is therefore eligible for Energy Savings Certificates and is a real incentive for every manufacturer to reduce their carbon footprint.
Optimize your compressed air production with MAC3 expertise
Thanks to its expertise, MAC3 is proud to see today that about 30% of its sales of compressors from 55KW are equipped with the control of such a system of energy recovery.
Do you want to reduce your energy costs related to the production of your compressed air? Contact MAC3, the specialist in industrial compressed air.