---
In addition to a comprehensive range of industrial compressors, MAC3 offers a range of electronic controllers for compressed air system management.
Such controllers are very often the most effective solutions to control a multi-compressors system while guaranteeing a stable pressure in the system. 
Our electronic controllers offer several modes of operation: priorities, rotation and hours balancing, a smart mode feature that constantly evaluates and selects the most efficient multi-unit configuration, etc…
MAC3 offers several models depending on each installation's complexity, as well as complementary devices such as: slave interface for other brands of compressors, analog transducers, ethernet interface allowing monitoring via cloud system…
Simulation test in MAC3 factory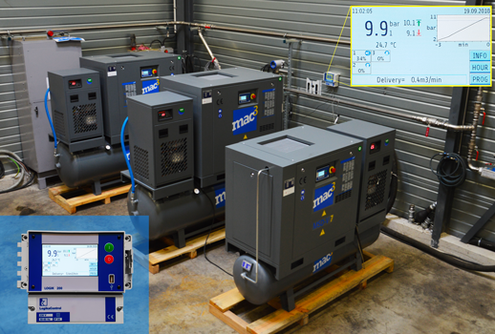 The enclosed picture shows a simulation test performed on a system of 3 x VSD compressors of different capacities all driven by a L200 master controller, prior to shipment to its final destination in Gibraltar.
Any system with several compressors that need to be managed by an intelligent electronic controller may require more or less setup time.
Thanks to a fully equipped testing room in our factory in France, we can perform all tests on such complete compressed air systems prior to sending them to their final destination.
On demand and in partnership with our distributors, MAC3 can provide a pre-reception with the end-user, as well as operator training that can be carried out in our workshops.
Do not hesitate to contact us for more information