---
Did you know ? 1 hour of demolition with a pneumatic tool generates 6 kg of dust.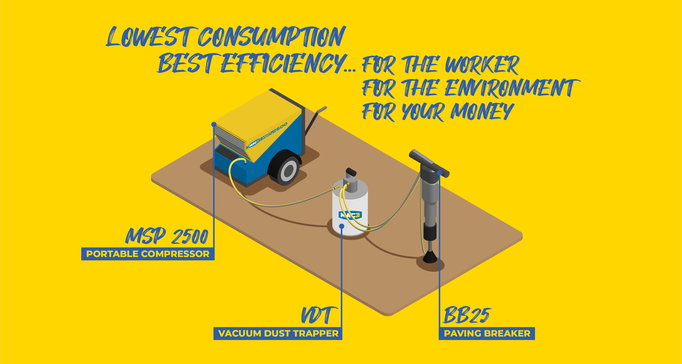 Since October 2020, respirable crystalline silica dust has been added to the list of carcinogens. This type of dust is present in a natural state in many rocks (sandstone, granite, sand, etc.) and therefore in many processed products: breakers, mortars, facade coating, etc.
In 2019, MAC3 anticipated this health issue by developing a vacuum dust trapper system directly linked to the demolition tool. On January 1, 2021, the fight against dust emissions in demolition took on a new dimension with new rules to be observed. The point in this article.
CRYSTALLINE SILICA CLASSIFIED AS A CARCINOGENIC AGENT IN FRANCE
Since January 1, 2021, any person exposed, in the course of their professional activity, to respirable crystalline silica, must comply with specific rules for the prevention of CMR agents (carcinogenic, mutagenic or reprotoxic).
Therefore, any employer exposing its employees to exposure to CMR agents must do everything in their power to avoid exposure or reduce it to the lowest possible level. In France, regulations set the Occupational Exposure Limit Value (OELV) for crystalline silica at 0.1 mg / m3 over 8 working hours; for comparison, this represents a human hair in a cubic meter of air.
To meet these recommendations and meet market needs, MAC3 has developed a product that significantly reduces dust emissions during demolition work: the dust vacuum trapper for pneumatic tools.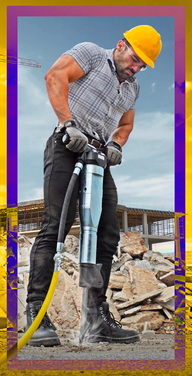 SOURCE DUST catching AS A SOLUTION
Among the recommendations to reduce the fumes of crystalline silica dust, there is the capture of these at the source. The VDT vacuum dust trapper developed by MAC3 offers this solution and adapts to all pneumatic tools, breakers, chippers, pick hammers whatever the brand of the tool.
It is a simple solution to set up and easy to use, the MAC3 vacuum dust trapper fits perfectly between the compressor and the pneumatic tool:
No need for water or electricity: the vacuum cleaner works with compressed air and connects to the compressor
No specific parts for a given brand of compressor or tool: the MAC3 vacuum dust trapper is universal
No need for a significant energy input: a 2500 liter compressor is sufficient to operate the VDT coupled with a MAC3 concrete breaker of 20 or 25kg
No need for a heavy and restrictive unit: the MAC3 vacuum dust trapper is light and can be easily transported either by its silencer or by its handle
Once the dust has been vacuumed up, simply throw the container away and change it for next use.
The MAC3 vacuum dust trapper is equipped with a HEPA filter (meeting OSHA criteria 1926.1153) washable and protected for a better duration over time, while maintaining its efficiency.
The cost of buying and owning the VDT becomes negligible compared to the benefits of its use.
This accessory is part of the "People Care" approach dear to MAC3 and offers a viable solution to reduce users' exposure to dust.
For more information on this solution, do not hesitate to consult the product page: